[Update: Edited 6/24/08, see below.]
Recently a picture was posted to the Inside Carolina message board which purported to show the contents of Coach K's trashcan. The picture showed printed pages with ESPN's prediction that "Tar Heels will be overwhelming favorites to win it all," apparently discarded in disgust. A number of us UNC fans enjoyed a good laugh, but almost immediately the guy received a ton of pressure from some shadowy Duke figures to remove the picture and story, and in less than a day he did so. [I have been asked to shroud even the story behind the picture in secrecy.] Thus only the most IC-addicted fans knew about it. I had saved a copy of the picture, but the guy asked me to remove it.
However, this was too much fun to let disappear. So, I mocked up my own version of the trash can picture. Note to shadowy Duke boosters: I guarantee that this picture does not show Coach K's trash can, nor any of his actual trash, although there may be some resemblance.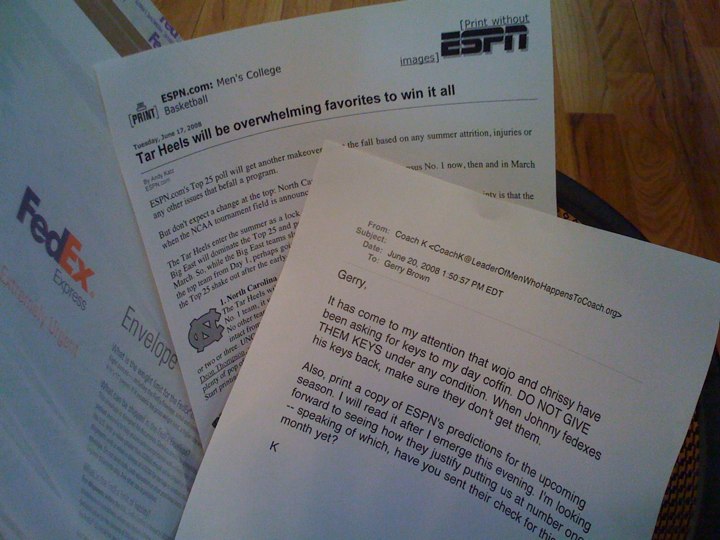 Click to see it larger.
Note to ICers: yes, I know the proper spelling of Duke is "dook," but I decided it was important to get this story indexed by Technorati and Google with the school's own improper spelling.