Sunday, December 25th, 2016

Santa. How can be? How does he do it? How can one ordinary man deliver millions of presents in a single night?! It can't be done, despite weak, tacked-on, magical explanations like flying reindeer, bottomless sacks, and the ability to whoosh up chimneys by laying a finger aside of one's nose. Impossible. Unless… there is something deeper going on. Something that can't be explained by the obvious, but that CAN be explained by a crazy, hair-brained theory we just came up with! So fire up your social media accounts, and start fakenewsing your friends, family, and coworkers IMMEDIATELY.
Firstly, why so many Santas? There's folks dressed up like Santa everywhere. Getting stuck in chimneys, filling the local throne at the mall, hiding behind bushes at the park, getting arrested for drunk and disorderly conduct. Can a mere myth really inspire that level of disorganized, spontaneous imitation? Of course not. Being a Santa is no mere hobby, funtime, or seasonal income for our plus-sized bearded elders.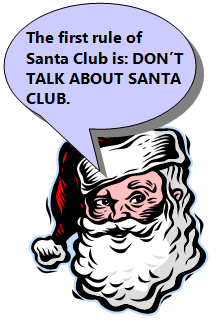 It's a cult. A well-organized, fiercely-dedicated, intensely secret cult with rigid rules on appearance and behavior. Also, it's like that movie Fight Club, only without quite as much beating each other bloody with fists. Members must take a solemn vow of Santitudity. They don't only dress as Santa (called "taking the red"), grow a beard, and delight/terrify children. They not only swear to carry the torch of Christmas-itude, and to never deny the true existence of Santa. No, they actually must BECOME Santa. They undergo a drug-fueled initiation rite designed to help them believe that they, in fact, ARE Santa. Women are not explicitly excluded, but typically have trouble with the a beard-growing requirement. Beware, though. Once in, never try to get out. Apostates are secretly murdered and made to look like accidents. Don't spill the beans, either. Those who attempt to reveal the cult's existence are blacklisted and never get a good Christmas present again, forced into a sad existence of ugly sweaters, boring ties, fake-smelling bath sets, corporate coffee mugs, and a never ending array of socks and underwear, socks and underwear, SOCKS AND UNDERWEAR. And also sometimes murdered, just for variety.
Now, how can Santa Claus appear in different places at the same time? How can he be leading a small town parade whilst simultaneously ringing a bell in front of the Wal-Mart AND absorbing urine from terrified toddlers at the local mall? Most parents cross this horrible, faith-shaking, narrow bridge of faith by explaining the doppelgangers away as "helpers" or, that sure, THAT guy is just some dude in a cheap Santa suit, but there's still a REAL Santa at the North Pole doing the REAL work of Christmas, while these chumps put on a dog and pony show for hicks like you.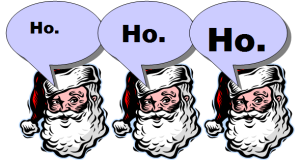 But what if that's not the case? What if … THEY ARE ALL SANTA? If Santa has powers beyond those of any mortal, why should we expect him to BE a mortal?! Why should we expect him to be like a human at all?! All the Santas are one. ALL THE SANTAS ARE ONE. Santa is a gestalt creature. He ONE entity with many many near identical bodies. Only a labor force in the thousands could pull off what Santa does in one night. So, what IS Santa?! Creepy, for one.
This leads us to our next theory. If Santa Claus cannot possibly be human, what can he then be? An alien? Now you're just being ridiculous. The cabal of international bankers and Bilderberg Gnomes controlled by the Committee on Foreign Relations would unleash their army of blue helmets and black helicopters so fast, even your fluoridated-water dulled senses would register surprise as the North Pole was carpet-bombed back to the Triassic.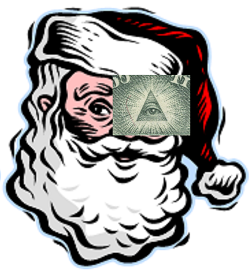 No, there's a better explanation. What we humans call "Santa Claus" is merely the intrusion into our three dimensions of an extradimensional creature that exists outside of time and space as we know it. Just as a sphere crossing a two dimensional plane appears as a growing and shrinking circle, the intersection of this creature with our plane just happens to look like a large human in a red suit with a white beard. Since this… this… this… THING is not subject to our laws of physics, existing outside of our universe, it is a simple matter for it to reach into closed rooms, locked houses, and deliver presents to millions simultaneously. The more terrifying aspect is why it would chose to do so. We cannot impute human motives on such an unearthly creature that isn't even made of matter as we know it, but an agglomeration of Planck-length one-dimensional vibrating strings in an eleven dimensional superuniverse. Even more terrifying is that we have misinterpreted the situation by assuming this entity even HAS motives. It does not want to make us happy, spy on us, or lull us into a false sense of security and then eat our souls. No, the annual appearance of "Santa" is merely the rhythmic equivalent of its heart beating, lungs breathing, or blood flowing. Or pooping. We merely choose to interpret this inexplicable phenomenon as a kindly old dude chucking presents from a magic flying 18th century equivalent of an SUV. We must instead capture, analyze, and dissect these "fingers" of the greater creature that we might learn how it operates. Then we can learn how to heal the dimensional rifts and weakened time/space continuum that has allowed these apparitions to penetrate our world and torment us annually. The true celebration can only come when our scientists forever eliminate Santa from reality.
But where science fails us, religion picks up the ball and runs with it, spikes it in the end zone, does a ref-defying taunty dance, and demands everyone agree it's particular taunty dance is the one true taunty dance and there can be no others. Some stripes in the Christian rainbow don't like Santa; seeing him as some kind of interloper in what should be Jesus's exclusive turf. I mean, whose birthday is it? What's the reason for the season? It must be aggravating. Also, Santa is an anagram of… SATAN! And as we all know, fun letter swapping games for bored vaguely literate people are always a font of uncorrupted religious truth forever. This final theory on the true nature of Santa Claus is for them:
Santa Claus isn't against Jesus Christ. Santa Claus IS Jesus Christ. After crucifixion, returning from the dead, visiting friends and family, going on tour in the Americas, founding a bloodline in France, and generally having the most active posthumous career known to mankind, Jesus retired. He gained weight, turned gray, got bored, and chafed at the shackles of his own fame. He realized anything he then did as himself would be soon be overrun with his fans and supporters regardless of its merit. So, Jesus adopted a pseudonym, a spiffy new outfit, and reinvented himself. Yet, he remained true to two of his main interests. Jesus was a carpenter. Jesus loves the little children. So he uses his carpentry powers to make them toys.  He uses his Son of God powers to monitor and track every child in the world's good/evil levels, pick the most appropriate toy for each, make the toys, and get them all delivered all around the world on a single night. Jesus Santa is so selflessly awesome, that on HIS birthday, he gives YOU a present! You don't even have to go pick it up! He delivers!
It's the only explanation that explains everything, AND puts the Christ back in Christmas.
You're welcome.