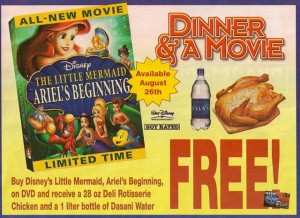 Hey, would you like to come over tonight and watch an UNrated movie with me? Maybe have some dinner? How's roasted chicken sound to you? What if I told you I'll have a liter of water to go with that chicken?
This ad is from a Kroger circular. Is the ad aimed at prison wardens? I guess I should applaud Kroger for promoting drinking water instead of sugar, but throw in a pound cake or a can of peas or something. Spice it up!
But maybe Kroger is working on a different level here. Water to represent the underwater theme and roasted chicken to represent that crazy seagull. If that's the case kudos indeed. Very funny!