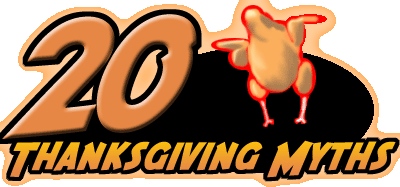 There's a lot of folklore surrounding Thanksgiving. Many of the stories we've been taught about this time of year are simply untrue.

We hope the following list of Thanksgiving myths will remove some of the lies that clutter history.

If you hunger for the truth then read this page. If you thirst for the truth then just read half the page. If you have the munchies for the truth, the first quarter of the page will satisfy your cravings.

If you're hungry, but don't know if you like the truth, be adventurous and try some. If you like it have some more. If you don't like it, please use a napkin and dispose of the truth properly.

Myth 1 Thanksgiving is based on an ancient Athenian Feast. The name of the feast loosely translates into English as, "At least we're not Spartans."

Myth 2 "A Charlie Brown Thanksgiving" was ghost-written by Noel Coward.

Myth 3 If you are the first to give thanks at the Thanksgiving meal, your wish will come true.

Myth 4 No one has ever listened to the entire song "Alice's Restaurant" at one time.

Myth 5 In 1978 during the White House Thanksgiving prayer, President Carter gave thanks for Roy Clark's amazing banjo playing.

Myth 6 If you eat cranberry sauce, you will go sterile.

Myth 7 In certain New England communities, people go door to door collecting thanks from their neighbors.

Myth 8 Declaring December 25th as "Thanksgiving 2" was part of George McGovern's presidential platform during his 1972 election bid.

Myth 9 Turkey Jerky is a legal substitute for the main course at Thanksgiving dinner.

Myth 10 Federal law requires thanks be given at least once on Thanksgiving day.

Myth 11 According to the Oxford Dictionary, "Thanksgiving" isn't a word.

Myth 12 The first Thanksgiving was celebrated by two cities in Germany two hours earlier than the Pilgrims/Native American feast.

Myth 13 Thanksgiving is celebrated on the birthday of an Irishman named Thankful Seamus.

Myth 14 The day after Halloween is the busiest shopping day of the Thanksgiving season.

Myth 15 Thanksgiving came to be held on a Thursday, because it was felt no one ever had plans on a Thursday.

Myth 16 If you don't eat on Thanksgiving you're not really thankful.

Myth 17 After a long day of feasting, the pilgrims started the tradition of the Thanksgiving Day Parade as a way to march the Native Americans home after they had overstayed their welcome.

Myth 18 The day after Thanksgiving is unofficially called "I Was Drunk When I Said That Day".

Myth 19 Sly and the Family Stone's single, "Thank You (Falettinme Be Mice Elf Agin)", was voted the number one Thanksgiving song of all time in a 1993 Rolling Stone Reader's Poll.

Myth 20 Pilgrims left the old world because all the good places to eat were booked.





Back to Thanksgiving Main Page