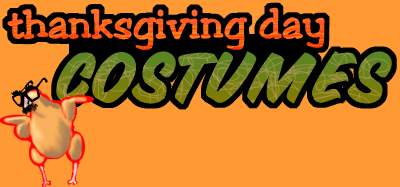 Every year on the last Thursday of November, kids around the United States dress as their favorite Thanksgiving character and go door to door in their neighborhoods screaming the phrase, "Turkey or Treats!" Their faces are all aglow with anticipation, hoping they'll get a piece of white meat, a can of cranberry sauce, a ladle of gravy or a scoop of dressing in their treat bag. Ah, the magical days of childhood.

Most kids rarely break free from the traditional costumes of the season. Let's face it, the tradition of giving thanks doesn't yield the great variety of appropriate costumes as the tradition of praising the dark lord. But if you want your child to break free from the boring Thanksgiving costumes of Pilgrim, Native American, and Turkey, check out these fine alternatives.

Post Meal Turkey Carcass All you'll need is a post meal ostrich carcass. After you've carved away all the useful meat from the Ostrich, pull the skeleton with hanging meat scraps over your child's head and around their body. Your kid may want to go around saying, "gobble, gobble", but please instruct your child that dead animals don't talk. If they persist, grab them by the collar and explain dead children don't talk either.

The Mayflower Go to Walmart and buy a "I am poor" rain barrel, they should be over by the "I was made by the poor" section. Paint the word "Mayflower" on the port and starboard sides.

Plymouth Rock Paint your kid gray and put bunch of pilgrim dolls on their head.

Franklin D. Roosevelt We prefer the legs covered with a shawl and in a wheelchair costume, but if you can't find a shawl or your grandparent refuses to let your kid borrow the wheelchair, then go with the standing up version. Tell your kid, "If people ask, just answer in your best 'I'm so smarter than you!' voice, 'He's the president who declared the final Thursday of the month Thanksgiving, idiot."

Cranberry Sauce Just buy a cylindrical cherry gelatin suit. Target has them. If they're out of cherry, strawberry or strawberry/banana will do fine.



Army General When the neighbor opens the door your kid should say, "Happy TANKSgiving! Get it? Huh? I'm in the army. They have tanks. Get it now! Forget it! Just gimme a leg and some dressing and then drop and give me twenty, be-ouch"





Back to Thanksgiving Main Page