Party fouls: let's avoid them this year on September 11th. The first and most vital element in avoiding a 9/11 anniversary observance faux pas is: don't CELEBRATE it. Happy holidays you celebrate, tragic anniversaries you OBSERVE. Americans are terrible at observing the observeful holidays; we're all about celebrating the celebrateful holidays; stores put up Christmas stuff the same week as Halloween stuff. New Year's Eve? PARTY! Christmas! PRESENTS! But Labor Day? "Outta my way, I gotta cram in one more summer beach trip." Memorial Day! "Um, tire sale?" Arbor Day! "Is that still a thing?"
Here are some helpful tips to help you not look like an insensitive, subhuman douchebag of raging proportions on the anniversary of 9/11.
Terms to avoid. Please avoid saying or writing any of the following words, phrases, or memes either directly before or directly after the phrase "9/11."
Happy
Party
Booyah
Word up
FTW
Epic Fail
LOL
Facepalm
Conspiracy
No Piñatas. Period. It doesn't matter how tasteful your piñata is, or whether you got one at the store or spent hours making it yourself. It doesn't matter if it's filled with delicious candy or sensitive haikus about each of the nearly 3,000 victims. It doesn't matter if it's even one of Saddam, Bin Laden, or Bush; the whole concept of whacking things with sticks to smash them open and shove your way to greedily snatch up whatever is spilling out is antithetical to a 9/11 anniversary, metaphorically, and socially.
No Cake.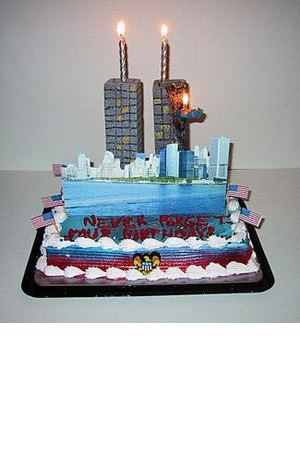 Again, this goes back to the whole celebrating versus observing thing. Cake is too delicious, too fun, too light-hearted, no matter what flavor, what shape, how it's decorated, or what's written on it in sweet, sweet, can I lick the beater please please please, frosting. Really, all sweets should be avoided: candy, cookies, brownies, blondies, puddings, mousses, flans, probably Jello, ice cream, sundaes, sherbets, Italian ices, frozen novelties, and especially pies of any kind, except shepherd's and pot. Kale is the most appropriate food to eat for a 9/11 observance. It's really good for you, you can work it into many dishes, and it tastes gawdawful. It's the new spinach! Really, any vegetable, especially raw, is well-suited to your 9/11 observance gathering.
No Two Minutes Hate. Try to avoid holding an Orwellian, 1984-style Two Minutes Hate. Again, it doesn't matter if it's for Saddam, Bin Laden, Bush, your turban-wearing neighbor, anybody. It's tacky.
No Drinking Games. We're not saying you can't have an alcoholic beverage on a 9/11 anniversary. This is America, after all, and if we can't drink, then the terrorists will have won. We're not even saying drink responsibly. We can't think of any other event about which we'd like to drink until we feel better, until we forget, until we can't feel feelings anymore. But what you should not do is hold drinking games, where everyone downs a shot or Jello shooter (and didn't we just tell you no Jello?) after hearing a selected word like "tragedy" on TV. Partly because it's bad taste, partly because you'll die of alcohol poisoning.
No Tire Sales. Or mattress sales. Nothing says "disrespected American holiday" like a themed tire and/or mattress sale. We know sales are sluggish and could use a shot in the arm, and everybody needs tires and mattresses at some point, and we need to patriotically purchase American-made tires and mattresses to support the American tire-and-mattress industry (NYSE: TAMI), but a 9/11 anniversary is not the time to do it. And if you are a tire or mattress vendor, please for the love of God, especially do not dress up in any kind of costume and make a homemade TV commercial for your 9/11 tire/mattress sale. Please, please, please.
Do Not Wonder What's the Big Deal. Do not do this. At least not out loud. You're young, or foreign, and the rest of us would all just superduper appreciate it if you would kindly shut the F up until we're all dead, and THEN you can safely bitch about what a stupid day this is and who cares even, and attend tire sales in peace. Just like Grandpa and the Kennedy assassination.
Jebus, all these "don'ts" we hear you cry. What's actually allowed?! Well, here's one: Do… give it time! In time, 9/11 will be safely absorbed into history and American will be able to breeze right by this holiday, drinking, eating, hating, whoring, and buying all the tires and mattresses at steep discounts we can stand. Look at Presidents' Day, Labor Day, Memorial Day, and I would say Arbor Day, but that can't still be a thing, can it? All these holidays/observances have been safely commuted from meaningful, heartfelt expressions of national sentiment (okay, President's Day was never meaningful), into lame, random days off from our soul-crushing jobs. The system works. Time passes, wounds heal. And 9/11 will never mean to our children and grandchildren what it means to us. And that's the way it should be.