In hindsight, it seems obvious that a R&B superstar and a game design house best known for Grab the Gerbil (a maze game based on the omnipresent Richard Gere rumor) wasn't the best fit. But in the frantic days of the Atari boom, when every record company was hoping for their own Journey: Escape, these jarringly different entities collaborated on a game.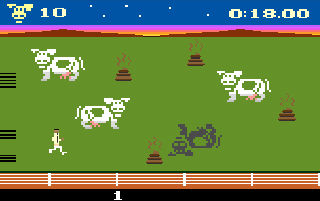 And what a game! Prarie Projects' masterpiece featured a single player racing around a field tipping cows while avoiding point-destroying cow pies. (In a small sop to physics, the player actually had to work up some speed before hitting the cow, so much of the game involves racing back and forth before slamming into a cow.)

Between levels, players were treated to a quick animation of a man dancing with a cow. It was never really made clear as to whether this was supposed to be Bryson, whether the player was Bryson, or whether the farm simply belonged to Bryson.

Not surprisingly, Peabo Bryson's Cow Tipper appealed to a very small audience. For smooth R&B fans who liked a good dose of scatalogical humor, it was a godsend. For the rest of the cartridge-buying public, it was simply another thing to skip over when rummaging through the bargain bin.



Choose a game:
Bosom Buddies | Free the Falklands! | Typing Tutor | Hands Across America | Kramer vs. Kramer | Ms. Paul's Fish Stick Hunter | Gunther Gebel-Williams' Cage Cleaner | Space Cobbler | Punch Buggy | Emmet Otter's Jug-Band Motocross

Back to
Stick It In The Slot