'Too Late Now' For Van Gogh-Gogh Y2K Sketch, Say Experts



LOS ANGELES (Roto-Reuters) Jan. 17, 2000 -- Experts reacted quickly today to chastise local sketch comedy group the Van Gogh-Goghs for a planned Y2K sketch. The sketch, which would premiere Feb. 12th at the earliest, portrays a world fraught with amusing problems caused by the Y2K bug.

Experts and Van Gogh-Gogh watchers bemoaned the timing of the sketch, which they say is now completely irrelevant. "A Y2K sketch after 1999? Come on!" said former longtime fan Selena Berrier. "What's the point?"

The sketch, written by group member Alan Benson, is "a zany lafftastic wackydelic spoof-sterpiece" set in a LAN closet, according to the group.

This is not the first time the Van Gogh-Goghs have dropped the ball on commenting on current events via sketches, according to biblical scholar and Van Gogh-Gogh expert Dr. Arthur J. Corrino.

"This is just like their Gulf War sketch, written nine months after it was over," he proclaimed.

Corrino also cited outdated references in the group's "Hitcher" skit. A videotape of the sketch, made by the group in the summer of 1994, clearly shows group member Charles Rempel gleefully comparing a dull knife to the former White House Chief of Staff John Sununu, who resigned on December 3, 1991.

According to Corrino, the Sununu joke replaced an even more out-of-date reference to the TV sitcom "The New Odd Couple," which ran from 1982 to 1983 (starring Ron Glass as Felix Unger and Demond Wilson as Oscar Madison).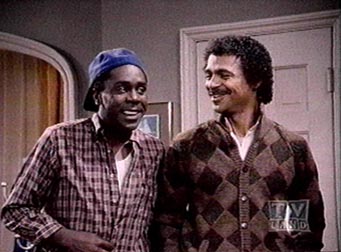 Demond Wilson (left) and Ron Glass (right) as Oscar Madison and Felix Unger in the short-lived 1980's sitcom, "The New Odd Couple."



The Van Gogh-Goghs defended themselves by pointing to a number of once-timely sketches, including parodies of "Doogie Howser, MD;" "Northern Exposure" and a series of Burger King ads by then-hunk Dan Cortese. "We sure stuck it to Danny boy," reminisced group member T. Mike Childs, "It was a thrill knocking some of the starch out of that stuffed shirt!"

Corrino dismissed the evidence put forward by the group as "...exceptions to the rule. Furthermore, all these sketches are from 1992. What have they parodied lately?"

Corrino pointed to list of other ill-timed Van Gogh-Gogh sketches: a parody of the 1994 movie "Quiz Show" dating from 1995; a 1994 skit dealing with the comic strip Bloom County, which ceased publication in 1989; and a 1993 skit titled "Suits and Salaries," which spoofed the Dungeons & DragonsTM role-playing craze of the 1980s and a 1994 "Male Bonding Game" parody of the Dating Game, which was canceled in 1973.

Corrino further cited the group's complete failure to premiere a much-discussed skit about the Aug. 9, 1995 death of Grateful Dead singer Jerry Garcia. "Now that was a celebrity death rife with comedic possibility!" he said.

"And now the group is finally toying with a sketch about Satan and Bill Gates," Corrino added. "It's sad really."