Van Gogh-Goghs Fail to Party Like It's 1999



LOS ANGELES (Spun Magazine - Jan. 3, 2000) -- Local sketch comedy group the Van Gogh-Goghs disappointed fans and angered New Year's experts on Dec. 31 when the six-man group failed to party like it was 1999.

Based on preliminary data released by Forrester Party Research and the Moscow Institute of Advanced Atomic Funk Feelin', Rump Shakin', and Gettin' Down (commonly known by its Russian acronym, BOOTY), the Van Gogh-Goghs partied, on average, like it was 1987. The party level peaked around 10:45 p.m. PST, when revelry levels reached 1992, but soon slumped to a dismal 1979 shortly after midnight.

At its lowest point, 8:19 p.m., the group was partying like it was 1956, a full 43 years short of expected 1999 partying levels. Group members blamed the mid-evening slump on one of the Yahtzee dice rolling under the refrigerator.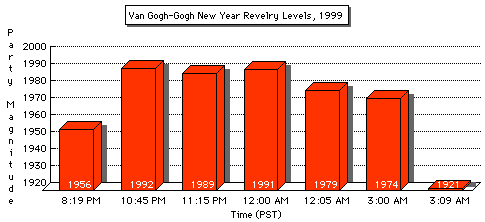 *Chart courtesy the Moscow Institute of Advanced Atomic Funk Feelin', Rump Shakin', and Gettin' Down



Reactions from the Van Gogh-Goghs were mixed. Member Rob Terrell claimed illness prevented him from personally partying at optimum levels. "I was sick! Sick, damn you, sick! Just give me another chance! For the love of God, please just give another chance!"

Group member Charles Rempel, a noted early-'90s partier and host of the event, said he was "stunned" by the group's party-related failure.

"I don't know what happened, it started off great" he said. "When I woke up at 10 a.m., I could have sworn it was judgment day. By noon, there were people running everywhere. But it just went to hell after that."

Rempel's claims of a promising early start were refuted by Dr. Vladimir Ysrupik, director of BOOTY. Ysrupik said their studies showed that at no point during New Year's Eve did the group approach 1999 party levels. He further claimed that prior to the party, individuals' party levels were actually in the negative range.

"We noticed a rare 'anti-party vortex' surrounding these Van Gogh-Goghs," Ysrupik said. "Several passers-by had their party levels pulled down to the early '90s just by standing near them."

Ysrupik added that the Van Gogh-Goghs' anti-party vortex had actually damaged some of his party surveillance equipment. Apparently, several members of the group had visited BOOTY's field office new year's eve afternoon in an attempt to borrow a cup of funk.

"We had to shoo them away before the vortex transmuted all our James Brown into James Taylor," he said. "I told them, 'If U didn't come 2 party, don't bother knockin' on my door,' and fortunately, they quickly dispersed."

Van Gogh-Goghs Jason Torchinsky and Galen Black acted quickly to distance themselves from the fiasco, pointing out that neither was in attendance at the Van Gogh-Gogh New Year's Eve party. Both also vociferously objected to the Forrester and BOOTY findings.

"I for one, was getting quite rowdy around midnight," Black said. "I distinctly remember kissing my wife's cheek as the ball came down, right before cleaning out the litter box, sanding my bunion and going to bed. If that's not late-'90s partying, well, I don't know what is."

Torchinsky, who was in London at the time, claimed to have partied at near-1999 levels for several days. He also indicated that, during the New Year's festivities, he had a lion in his pocket, mama, and that the aforementioned lion was ready 2 roar.

Torchinsky's claim could not be verified by BOOTY, but they did report lingering traces of higher-than-average partying levels in Torchinsky's clothing and saliva.

The controversy surrounding the group's failure was complicated by a last-ditch effort to raise their partying levels. This second effort, begun around 3:00 a.m. on January 1, reached 1974 levels before plummeting to 1921, moments before the party finally gasped to conclusion.

Perennial dean of New Year's festivities Dick Clark blasted the group's second attempt and claimed that since it began after the new year had begun, it wouldn't have counted even if it HAD been successful. "Two thousand zero zero party over, guys. Oops, you're out of time! Last night was when U should have partied like it was 1999."

"I think it's a travesty that these people even thought we'd go 4 this." Clark said. "Life is just a party, and parties weren't meant 2 last,"