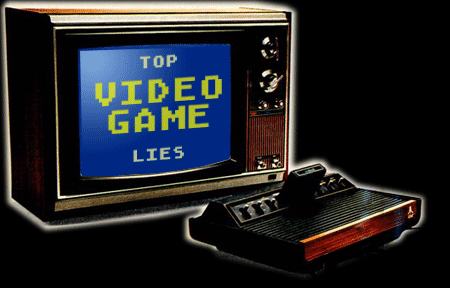 It is actually impossible for a gorilla to raise a barrel over its head.

Donkey Kong is based on King Kong's nephew, who liked to throw barrels at people.

Homosexuality didn't exist before the release of Circus Atari.

The late Nell Carter had the highest score ever recorded in Pitfall.

The game Gorf is based on Strom Thurmond's 1948 campaign for president.

Frogger was criticized by the NAACP for being racist.

The Yahoo! search engine runs off of a single Atari 2600 BASIC cartridge.

There are still four Atari 2600s on the Internet backbone.

Bobby Riggs scored the first ever point in Pong.

Activision said if anyone scored above 100,000 on Barnstorming they would send them nude pictures of Ellie Mae Clampett.

Basil Rathbone did the "wakka wakka" voice of PacMan posthumously! It was sampled from the movie A Study In Scarlet.

No video game has ever been played on March 20th.

Thomas Jefferson's original draft of The Declaration of Independence predicted video games, but James Monroe made him take it out.

Anne Boleyn was beheaded by Henry VIII for beating him in four straight games of Dr. J and Larry Bird: One on One.

In the Oscar the Grouch game, profanity is clearly visible as graffiti in the background.

In Tapper, the mugs of beer were originally joints.

In Asteroids, the medium size one is shaped like the head of former Boston Celtic forward Bill Russell.

If you turn your Atari 2600 on and off really fast with the Mario cartridge in, Mario appears to be pantsless.

Atari was originally spelled "Attarry" and changed to sound more Japanese.

"The Hat" restaurant in Pasadena is the only restaurant to still make burgers the "BurgerTime" way.

The first shipment of Atari 2600s caused blackouts in New Jersey because so many people tried to play them at once.

Excessive exposure to Bezerk will give you sunburn.

Kids once hacked into the Pentagon's computer system using only a copy of Pele's Soccer.

The gold plates on which Joseph Smith received the book of Mormon were actually Atari cartridges.

The Linksys company has just released an 802.11b adapter for the Atari 2600.

In Joust, your character can clearly be seen wearing a wristwatch, an anachronism.

The first version of Microsoft's Windows NT OS could run on an Atari 2600.

The famous Apple "1984" TV commercial was actually about Atari, not IBM.

Monsters, Inc. was rendered using the entire unsold stock of Atari 2600s.

All food vending machines have two free Atari 2600 cartridges in them, free to anyone who asks.

If you get a Tootsie Pop wrapper with a star on it, you can still trade it in for a free Atari cartridge. Unfortunately, it's Combat.

In the Atari 2600 Football, game, it was impossible to win playing as the New Orleans Saints.

Atari's Baseball cartridge is closer to what Abner Doubleday had in mind when he invented the game than the version we play today.

Back to
Stick It In The Slot